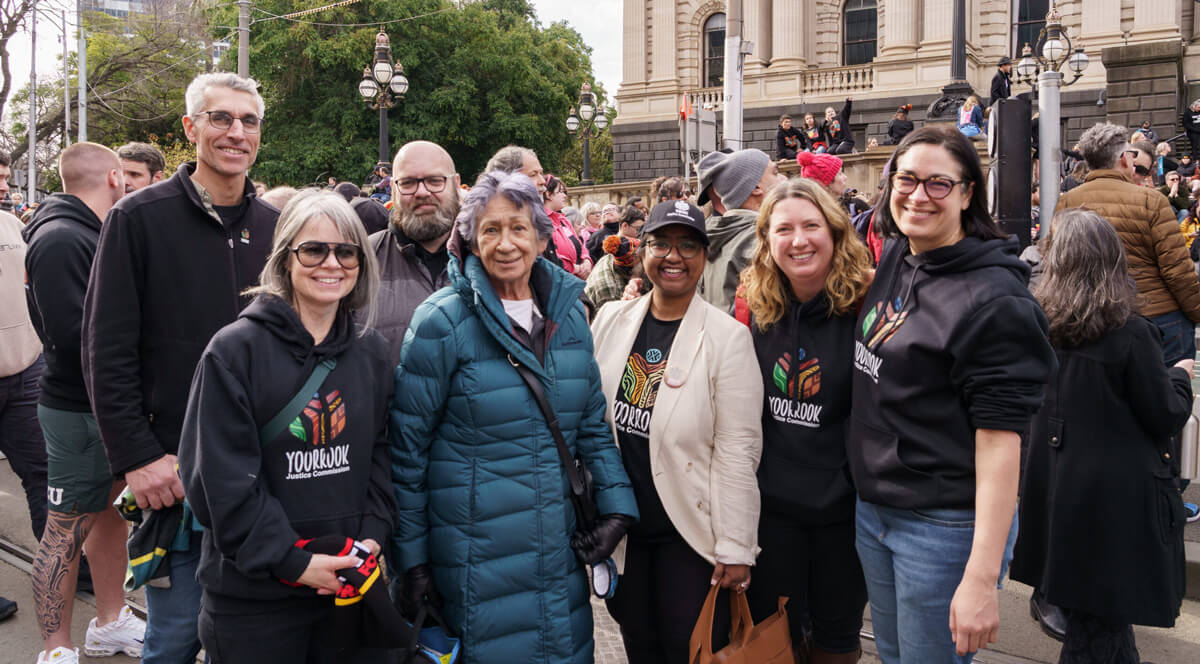 The Yoorrook team was busy throughout NAIDOC Week, which ran from July 2 to 9. This year's theme 'For Our Elders' was particularly significant for Yoorrook, which would not be here today if it wasn't for the tireless advocacy of Elders over several decades. Elders have also played a crucial role in guiding the Commission's work from its inception in 2021.
Across the week, Yoorrook staff attended more than a dozen events and welcomed Community to its Collingwood office for a yarn, lunch and panel discussion with Uncle Kevin Coombs and Aunty Eleanor Bourke, Chair of Yoorrook. The pair discussed the importance of building respect and understanding among the wider community as part of the truth telling process.
Aunty Eleanor also reflected on what it was like to be an Elder saying, "It's not an easy thing to be in those spaces. Not everyone wants to do it. But we want things to be different, to be better than it was. We want people to know us and know our stories."
The week of activities and events kicked off with Yoorrook's newest Truth Receiver Stephen Thorpe meeting with Community at the Mullum Mullum Indigenous Gathering Place (MMIGP) NAIDOC family event.
A team of Yoorrook staff were proud to be at the flag raising ceremonies at Federation Square and the Aborigines Advancement League to mark the start of NAIDOC Week.
Truth Receiver Tara Fry set up for a yarn at the Sunbury Aboriginal Corporation NAIDOC afternoon tea, and the Yoorrook team also attended the Gippsland & East Gippsland Aboriginal Cooperative Ltd March and Lunch at GEGAC in Bairnsdale.
Stephen continued his busy week, yarning about truth telling at the Victorian Aboriginal Community Services Association Ltd basketball tournament in Reservoir.
After MCing Yoorrook's Community event, fellow Truth Receiver Shayne Morrall attended the Aboriginal Advancement League's Elders' Luncheon in Thornbury to talk about Yoorrook's ongoing work.
Shayne also joined the League's NAIDOC celebration, setting up a stall to talk about truth telling.
Truth Receivers Joseph Saunders and Lisa Thorpe yarned with Community at the Bendigo & District Aboriginal Co-Operative NAIDOC Family Day, while Lisa also had a yarn at the Rumbalara Aboriginal Co-Operative Family Day in Mooroopna.
Tara attended the Casey Aboriginal Gathering Place NAIDOC Celebration, and the Derrimut Weelam Gathering Place NAIDOC Family Day.
Aunty Colleen Harney and Community Engagement Manager Nick Butera met with Community at the Gunaikurnai Land and Waters Aboriginal Corporation (GLaWAC) NAIDOC Community Day to talk about truth telling through Yoorrook.
And last but not least, the Yoorrook team had a stall for the NAIDOC march, which started at the Victorian Aboriginal Health Service in Fitzroy.
Subscribe to be notified about other news, stories and work of the Yoorrook Justice Commission.